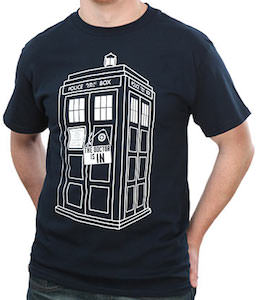 Are you wondering where Doctor Who is right now?
I know where you can find him. This Doctor Who t-shirt has the answer.
On the blue t-shirt you can see a line drawing of the Tardis and on the door of the Tardis you can see a sign hanging on the door connected by a string.
And on this sign it says "The Doctor is in" so now we know that he is inside the Tardis.
And this Tardis t-shirt is made from 100% cotton and comes in sizes Small – 3XL and all will be perfect for Whovian's that need to know where the Doctor is at all times.
Come and order your Doctor Who The Doctor Is In T-Shirt.