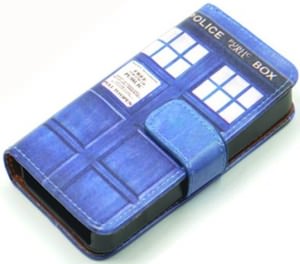 OK you are a Doctor Who fan with an iPhone 4 or iPhone 4S and you are in need of a nice case.
How about this one that covers front and back of your phone without blocking any ports and buttons and it looks like the Tardis.
This Tardis case flaps open and then it becomes a stand so that you can watch Doctor Who on your phone.
On the inside there is even a pocket for money and two slots for cards.
Now you can leave you wallet at home as this Doctor Who Tardis cover can do all that + taking care of your iPhone.
You have to click on the picture to see more photo's of this amazing cover.
Come now to check out this Doctor Who Tardis iPhone 4S Cover.