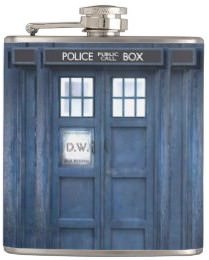 Now you will never be thirsty again!
This Doctor Who Tardis flask will hold the preferred liquid and looks stunning to.
This handmade Tardis flask shows a picture of the Tardis on the front but this Tardis is not the normal blue, this Tardis has the whole galaxy printed on it. Now you can dee where the Doctor traveled to as it is printed on the Tardis.
This flask can hold up to 6oz. of drinks and is great for in your pocket or a bag.
Every Doctor Who fan wants one so that they are not only cool because they have a flask but because they have a Tardis flask.
So lets not wait any longer, come get your Doctor Who Tardis Galaxy Flask.