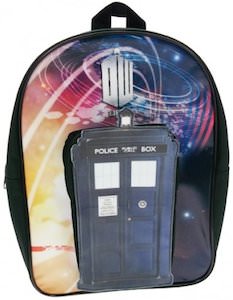 A Doctor Who backpack that is what we all want. And now you can get your own Tardis backpack.
This backpack may not be as big as most backpacks but it does has a Tardis shaped front pocket and that is worth something.
Besides a small front pocket that looks like the Tardis there is also a big compartment that has a galaxy painted on and the Doctor Who logo.
A backpack as this is great to collect and use as it shows everything a Doctor Who fan can dream about.
So if you are looking for a Doctor Who backpack then check out this Doctor Who Tardis Galaxy Backpack.