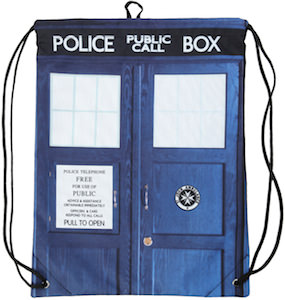 When a backpack is to much then a back sack can be perfect and that is why there now is this special Tardis back sack.
The back of this Doctor Who backpack is black but the front shows the doors of the Tardis with all the signs and details.
A bag like this is ideal for school stuff or just when you go hang out with friends. It's so versatile as it is just a flat bag that shapes around your stuff.
And as this backpack is flat it is also ideal to have it folded up in your bag or big backpack so that you always have a Doctor Who themed bag handy when needed.
Come and take a closer look at this Doctor Who Tardis Cloth Back Sack.