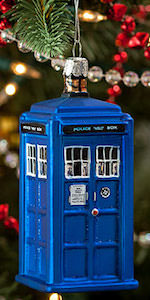 If you want a Doctor Who themed Christmas tree then you definitely need a Tardis tree ornament.
And now there is the perfect ornament. This Tardis ornament is based on the Tardis from the 11th Doctor and is made from glass.
The Tardis Christmas ornament is about 4 1/4 inch tall and really makes you tree complete.
No Doctor Who Christmas would be without a Tardis so an ornament is a perfect start.
Just imagine your tree with this Doctor Who Tardis Christmas Ornament.