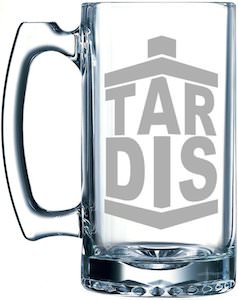 As a Doctor Who fan you of course want to drink out of a special glass.
How about this Tardis beer stein. The glass is 25oz and has an etched Tardis like logo on it. The logo looks like the Tardis and has the letters "TARDIS" spelled on them.
Yes this glass will be your new favorite way to drink and besides beer you can of course use this stein for other beverages like water or pop.
And as this glass has the art work etched on it you are sure that it will stay and not fade. And yes this Doctor Who glass is 100% dishwasher proof.
Lets toast on the Doctor with this Doctor Who Tardis Logo Glass.