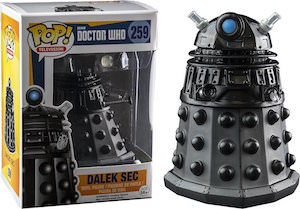 There is Dalek Sec one of the Dalek leaders that now wants to live in your home.
Any Doctor Who fan of course wants to own their own Dalek and why go for the normal once when you can go for Dalek Sec.
This Dalek figurine is 3 3/4 inch tall and is black and grey in color and comes in a neat window box so that you can stay protected from the harm of the Dalek.
Of course having a Dalek on your desk or book shelve is a great addition to any Doctor Who collection.
Come take a closer look at this Doctor Who Dalek Sec Pop! Vinyl Figurine.