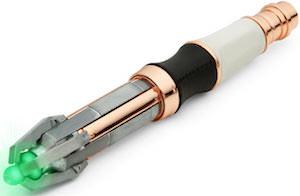 Are you a Doctor Who fan that wants to control it's TV, Blu-Ray player and more with style?
How about a universal remote control that looks like the Sonic Screwdriver used by the 12th and 11th Doctor?
Of course you remember that there is one that looks like the 10th Doctor's Sonic Screwdriver but if you want to keep up with the Doctor then of course you want one that is the new Sonic Screwdriver.
It's pretty simple to train this Sonic Screwdriver to control your devices and it can hold up to 39 buttons that you can than control by gestures. And yes the Sonic Screwdriver also has real sound effects (that you can turn of).
Just train the Sonic Screwdriver with almost nay IR remote and you can feel like the Doctor while changing channels on your TV.
Lets not wait any longer and just get your 12th Doctor Sonic Screwdriver Universal Remote Control.