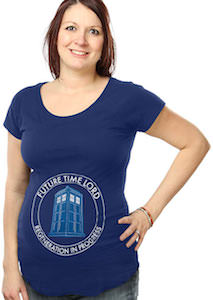 Are you pregnant and expecting a time lord?
This Doctor Who maternity t-shirt is would be perfect for you.
This blue t-shirt has on your belly a circle with in the middle the Tardis and around that the text "Future Time Lord Regeneration In Progress".
And this Doctor Who t-shirt is made from 100% cotton and is available in sizes Small – 3XL so that you can wear the perfect size throughout your pregnancy.
Sure there are other maternity shirts out there but you are getting a future time lord and that deserves a special t-shirt .
Make the pregnant Doctor Who fan happy with this Doctor Who Future Time Lord Maternity T-Shirt.