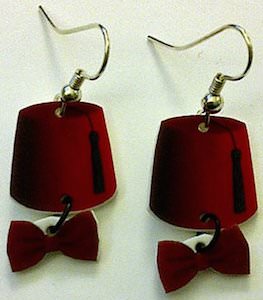 If the 11th Doctor is your Doctor then you gone love these earrings.
These Doctor Who earrings have a red fez and a red bow tie on it. And they are nicely dangling down when you wear them.
The hooks of these earrings are made from stainless steel and the fez and bow tie are a flat plastic and that keeps the light and easy to wear.
Now you ears can have the Doctor Who jewelry they deserve. These fez and bow tie earrings are so cute that you just want to wear them everyday of the week.
Come and check out these Doctor Who Fez And Bow Tie Earrings.