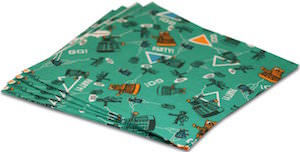 A Doctor Who party would not be perfect if you didn't have paper napkins that fit the theme.
And now you can get these green Doctor Who napkins that have many Dalek and Cybermen on them and the words "Party Go" on them. Of course you don't have to worry as these napkins also have some picture of a tiny Tardis on it.
These Doctor Who party napkins come in a pack of 16 napkins so that you have plenty to supply the whole party.
Besides for a party these Doctor Who napkins also go well in your lunchbox that you take to work or school.
Come take a closer look at these Doctor Who Party Go Napkins.