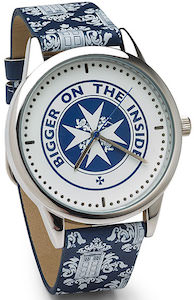 Now there is a special ladies watch for the Doctor Who fans.
This watch has a blue faux leather band with fun details and of course the Tardis. And then there is the watch face with shows in the middle the "St. John Ambulance" logo but instead of saying "St. John Ambulance" it says "Bigger on the inside" witch of course is an amazing detail.
The watch has a Japanese mechanism and is made from stainless steel.
A Doctor Who watch like this will last you along time and it just looks great so you can wear it with almost anything.
If you are looking for a nice women's watch then come see this Doctor Who Bigger On The Inside Watch.