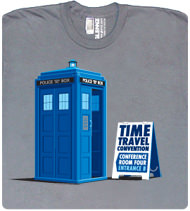 Fans of the Doctor of course want to know everything about time travel and that is why there now is a time travel convention and it's held inside a blue box that is much bigger on the inside.
Of course the convention is not real but this t-shirt is and it shows the Tardis besides a signs that points to the inside of the Tardis and the sign says "Time Travel Convention. Conference room four entrance B".
You have to admit that this is a cool Doctor Who t-shirt and as he is a time traveler he should be there.
This Tardis time travel convention t-shirt is available in men's and women's sizes from small  to 3Xl depending on the style but all are grey to make the picture stand out nicely.
So lets sign up for the time travel convention and get this Doctor Who Time Travel Convention T-Shirt.