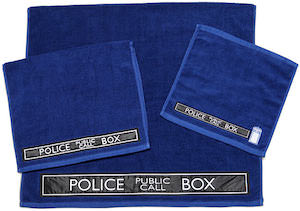 Of course your bathroom is Doctor Who decorated already but what is missing are some cool Tardis towels.
But you are in luck as now there is this 3 piece towel set.
The Doctor Who towel set has 1 big bath towel 50 x 27 inch, 1 hand towel 16 x 27 inch and one face towel 12 x 12 inch. And each towel in this set has Tardis details from the lamp on top to the "Police Public Call Box" sign and each towel also has an embroidered Tardis on it.
And this Doctor Who towel set is made from 100% cotton to make it soft and perfectly absorbent.
Trow out the boring towels and replace them with this Doctor Who Tardis 3 Piece Towel Set.