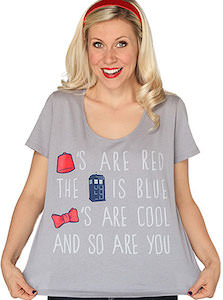 Are you in need of a fresh Doctor Who t-shirt?
How about a fun grey one that has a picture of a fez, bow tie and the Tardis.
This women's t-shirt does not just have those typical 11th Doctor's items it also has a fun text that reads as follows (if you name the pictures) "Fezzes are red the Tardis is blue bowties are cool and so are you".
You have to agree that is kinda cute to have a shirt like that .
And that is why this Doctor Who t-shirt is available in sizes Small – 3XL.
Let's get this fun nursery rime in your Doctor Who collection, come get your Doctor Who Red And Blue Are Cool T-Shirt.