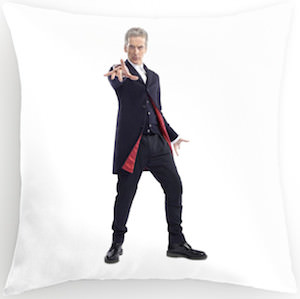 The 11th Doctor is gone now there is number 12.
And this is the Doctor Who pillow with a picture of Peter Capaldi as the Doctor.
The pillow is white and that makes the photo of the 12th Doctor stand out nicely. And this image can be found on both sides of the pillow.
And besides a pillow you can also just choose it as a pillow case so that you can use it on your favorite pillow you already own.
And this Doctor Who pillow comes in many sizes so that you can get the perfect sized 12th Doctor pillow.
Time to take a closer look at this Doctor Who Pillow Of The 12th Doctor.