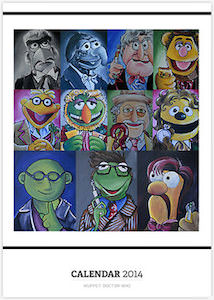 The Muppets like Doctor Who to and that is why they decided to all dress up as their favorite Doctor and pose for a calendar.
So now you can have Doctor Who calendar that has Muppets dressed up was their favorite Doctor.
And the fun things about this Doctor Who wall calendar is that it start when you want. Just select the month you want it to start at and you will have 12 months of fun Muppets dressed as Doctor's.
And yes of course Kermit is there as the 10th Doctor and Beaker is the 11th Doctor.
You just have to come see what Muppet is what Doctor. So check out this Doctor Who Muppets Calendar.