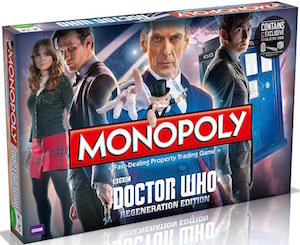 This Doctor Who Monopoly plays in the final days of the 11th Doctor and the beginning of the 12th and yes that is probably why it's called the Regeneration Edition.
Monopoly is a great game and having special Doctor Who versions make it even better and this Monopoly has 6 special tokens and they do include the Tardis and a Sonic Screwdriver.
Besides the 11th and 12th Doctor this game also includes characters from the 50 anniversary special "The Day Of The Doctor" and that of course will make this game extra exciting.
Get ready for hours of fun with the Doctor Who Monopoly Regeneration Edition.