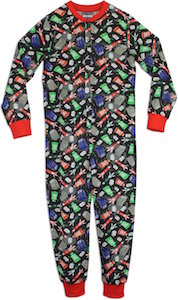 OK if you have kids that like Doctor Who then click on the picture above because they will love this onesie pajama as it is covered in Doctor Who things.
These kids pajamas have red cuffs and neckline and besides that it is black but covered in images of the Tardis, Dalek, Sonic Screwdriver and the Doctor Who logo and all those images are in a bunch of colors making this kids sleepwear fun and colorful.
This one piece pajama comes in sizes 6 – 12 and is made from 100% cotton.
Just imagine getting your boy or girl this onesie besides sleeping it will quickly become their favorite piece of clothing that they want to wear the whole day.
Make a little Doctor Who fan happy with this Doctor Who Kids Onesie Pajama.