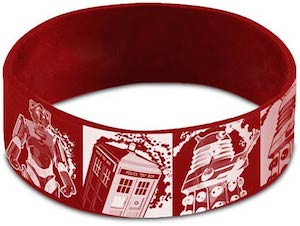 This red Doctor Who wristband shows cartoon style pictures.
On the is wristband you can find Cybermen, Dalek and even the Tardis al in separate pictures like it is a cartoon.
Need something to talk about with you Whovian friends then this wristband can help as it looks cool and has many things to see at it.
Dress up those wrist with a cool Doctor Who bracelet like this. It's fun and works with any casual outfit so it is great for work, school and just everyday use.
Lets not wait any longer come and order your Doctor Who Comic Style Wristband.