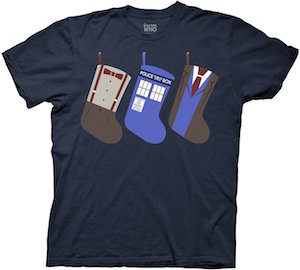 Christmas time is the time of year that stockings show up around the fireplace but what if you are a Doctor Who fan that does not have a fireplace?
How about this fun Christmas t-shirt?
On this navy blue t-shirt you can see 3 Christmas stockings and are are Doctor Who themed.
There is one stocking that looks like the outfit of the 11th Doctor complete with suspenders and a bow tie, then there is a Christmas stocking that looks like the Tardis and finally there is one that looks like the outfit the 10th Doctor wore.
So Christmas will be fun if you where this special stocking t-shirt from Doctor Who and that is why this t-shirt is available in sizes Small – 2XL so that many people without a fireplace can enjoy it.
Don't wait come get your Doctor Who Christmas Stockings T-Shirt.