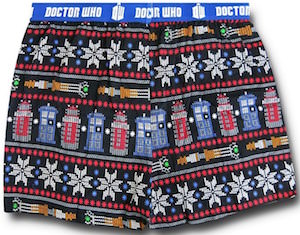 Doctor Who fans have a big choice of Christmas themed merchandise but did you see this underwear?
These Doctor Who boxers shorts have a blue wasteland with the words "Doctor Who" on it and the Doctor Who logo and then there is the pattern on the shorts. The print is kind of a Fair Isle design with Christmas stars and many Doctor Who details. You can see a row with a blue Tardis and a red Dalek next to each other and that repeats all around and then there are Sonic Screwdrivers as used by Doctor 11 and 12.
These Christmas boxers shorts are made from 100% cotton and come in adult sizes Small – XL.
Come take a closer look at these Doctor Who Christmas Themed Boxers Shorts.