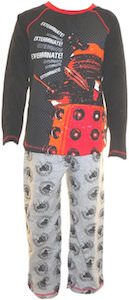 Yes kids like Doctor Who and his adventures to and when it's time to go to bed and start dreaming about the Doctor then maybe a great looking pajama would be nice.
This Dalek pajama could be perfect for your kid. The pajama is made from 100% cotton and is available in sizes for kids ages 4 – 12.
The pajama top is black with red details and also has a huge picture of a red Dalek on it and the Dalek has a lot of "Exterminate" to say. And then there are grey long pajama pants that again have red details but besides that are covered in little pictures of the same Dalek surrounded by it's favorite catch fraise.
Kids are just gone love this pajama set so much that they are gone try going to school in them.
So why not make them happy and surprise them with these Doctor Who Dalek Kids Pajamas.