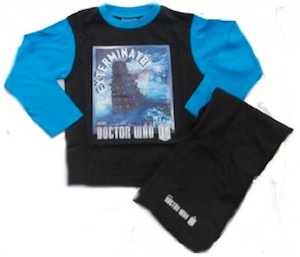 Do your kids like Doctor Who as much as you?
If so then they will love these Dalek pajamas. They have a dark body and pants and light blue sleeves and then of course there is a big picture of a Dalek on the shirt complete with the word "EXTERMINATE!" around it and on the bottom the Doctor Who logo witch are also on the pajama pants.
These 100% cotton Doctor Who pajamas are available for kids ages 4 to 10.
Maybe now the whole family can wear Doctor Who sleepwear while watching the latest episode of the Doctor.
As the picture above is not great come have a much better look at these Doctor Who Dalek Boys Pajamas.