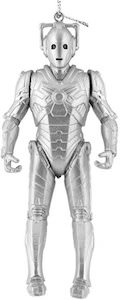 Now your Christmas tree can have one of the bad guys from Doctor Who in it.
This Christmas ornament is a Cyberman and that of course is kinda freaky but don't worry he is just tiny.
At 4.75 inch tall this plastic Cyberman will be a great addition to your tree and his color will work perfectly with any Christmas decorations in you home.
People who don't know Doctor Who may look a bit surprised when they see this little robot hanging in your tree. But that of course is a good way to make them watch Doctor Who with you until they understand what a Cyberman is.
Doctor Who fans come your own Doctor Who Cyberman Christmas Tree Ornament.