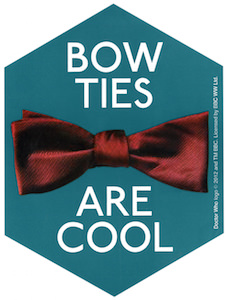 If you are a Doctor Who fan then you know that bow ties are cool and now there is this special sticker that will tell the rest of the world.
This sticker is a fun die cut shape and is 4 x 3 inch on the widest points and on the middle you can find a picture of a red bow tie just like the one the 11th Doctor would wear and around it there is the text that says "Bow Ties Are Cool" just like the Doctor would say.
With a sticker like this you can decorate a lot of fun things like books, the fridge and maybe you laptop.
Everyone needs something decorate so just get this Doctor Who Bow Ties Are Cool Sticker.