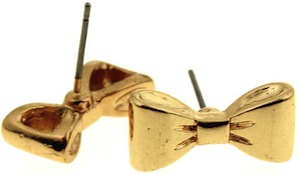 If you like the 11th Doctor then you know that bow ties are cool and that means that you need these earrings because they are bow ties and that means that they are cool.
How cool would it be to have earrings that look like little bow ties?
Yes it would be pretty cool and now you can have bow tie earrings.
These Doctor Who bow tie earrings are gold colored and are stud earrings. And because they are gold colored they basically go with anything you wear. So these Doctor Who jewelry can be word with any outfit.
And to make this even more fun these cool bow ties are shipped for FREE to anywhere in the world.
Come and check out these cool Doctor Who Bow Tie Earrings.