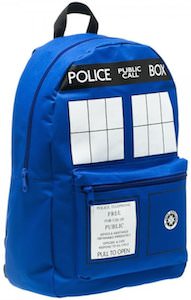 Backpacks are awesome as they can hold lots of stuff and just carried on your back.
And maybe this backpack is even bigger on the inside as it is a Tardis backpack.
Doctor Who fans are gone love this officially licensed Doctor Who backpack.
The backpack is Tardis blue and has all the details you wish for there is the windows and the top "Police Public Call Box" sign and then there is the door sign and the St. John Ambulance logo to. So everything it needs to look like a Tardis you can wear on your back is there.
And the Doctor Who Tardis backpack has one big main pocket and a smaller front pocket so that you can carry stuff where ever you want to take it.
Come and take a closer look at this Doctor Who Blue Tardis Backpack.