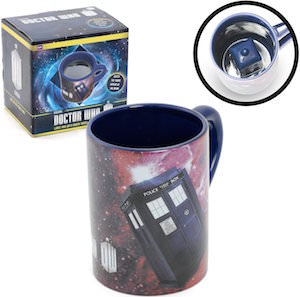 You never really know where the Tardis is and also never know where and when it shows up.
But if you are a Doctor Who fan that likes coffee you can see the Tardis appear every time you finish your drink.
This 12 oz. Doctor Who mug shows a red galaxy and the Tardis flying on it but it's the inside that makes this mug special.
On the bottom of this mug you find a 3D version of the Tardis and you can't see it when there is dark coffee in it, it only shows when you start enjoying that first morning coffee.
Get ready to enjoy a fresh look at the Tardis on the bottom of this Doctor Who Appearing Tardis Coffee Mug.