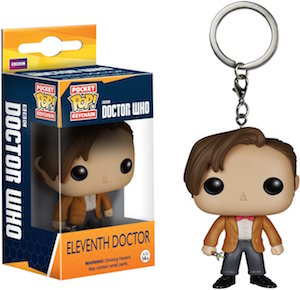 Now where ever you go you can bring Doctor Who. OK it may not be the latest revision of the Doctor but if you like Doctor number 11 better then this is what you want.
This cute Pocket Pop! key chain looks just like the 11th Doctor complete with bow tie and Sonic Screwdriver.
Besides as key chain you can also use this key chain as a zipper pull on a jacket or a bag so that the Doctor can look around and see if something strange is happening in your world.
Doctor Who fans come take a closer look at this 11th Doctor Who Pocket Pop! Key Chain.