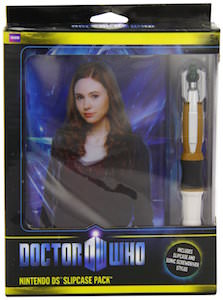 So you use a Nintendo DS but is it Doctor Who ready?
If you own a Nintendo DS, DS Lite or DSi then you are in luck because this is a Doctor Who slipcase for you DS.
And this is not just any Doctor Who case, this one has Amy Pond on it and that of course should be important to you.
Beside the case for your Nintendo DS it also comes with a new stylus that looks like the Sonic Screwdriver used by the 11th Doctor.
So now you DS can look cool with a case that has Amy on it and can be controlled with a stylus that looks like a Sonic Screwdriver.
I would not wait any longer and just order this Doctor Who Amy Pond Nintendo DS Case With Sonic Screwdriver Stylus.