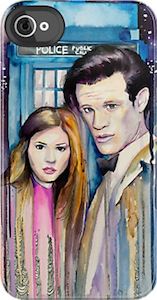 How about a Doctor Who phone case that is a piece of art.
This case shows Amy Pond together with the 11th Doctor (Matt Smith) and in the background there is the famous blue box that they used to travel in.
You can get this amazing design for many Samsung and Apple products lets give you a list.
iPhone 6
iPhone 6 plus
iPhone 5s
iPhone 5
iPhone 4S
iPhone 4
iPod touch 4e generation
Samsung Galaxy S5
Samsung Galaxy S4
Samsung Galaxy S3
And the design looks amazing on each Galaxy, iPhone or iPod and it does not just stop at the back it will keep going on the sides.
Now you phone is protected from harm and looks even better then without the case because now it has Amy, the Doctor and the Tardis on it.
Come have a closer look at this Doctor Who And Amy Pond iPhone Case.