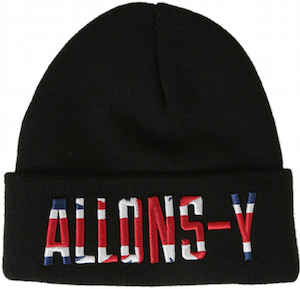 This Doctor Who beanie hat is great for man en women that like the 10th Doctor.
And it is an all black beanie with on the front in big embroidered letters the word "Allons-y" and these letters are not just white no they ave the union jack on them making this winter hat just perfect for a true fan of the Doctor.
It will make people wonder what you beanie hat is all about as it just does not make much sense to people that didn't watch Doctor Who episodes of the the 10th Doctor.
So stop getting a cold head and just get this Doctor Who Allons-y Beanie Hat.