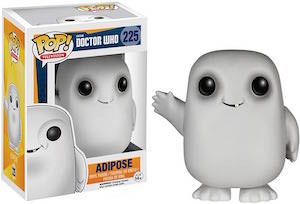 Adipose the solution for loosing weight that works guaranteed but may not be so safe for humans.
Now you can own a little fat guzzling Adipose for yourself but you are in luck this one is not alive just amazingly cute.
This figurine of an Adipose is about 3 3/4 inch tall and comes in it's own little display box so that you can display it with or without the packaging.
Of course any true Doctor Who fan would love to own a Adipose and this is the one to get as it will not eat all your fat.
Come check out this Doctor Who Adipose Pop! Vinyl Figurine.