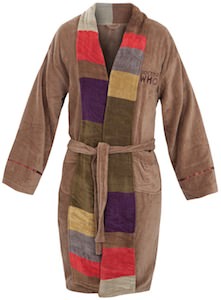 If taking a bath and the 4th Doctor are both things you enjoy then you should have a look at this Doctor Who bathrobe.
This bathrobe is mainly brown but has one very clear feature. It seems like it has the scarf of the 4th Doctor build in.
Yes it is not really a scarf but it looks just like the one Doctor Who used.
Besides having the scarf this Doctor Who robe also has Doctor Who embroidered on the front.
Now bath time will be even better just by knowing that when you are done you are allowed to wear you Doctor Who bathrobe.
This 4th Doctor robe is made from 100% cotton terry cloth to make it warm and making it perfect for absorbing bath water.
Time to dress up like the Doctor in this Doctor Who 4th Doctor Bathrobe.