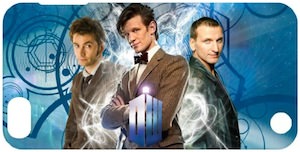 Does you 5th generation iPod touch look a bit bare?
How about protecting it with a Doctor Who case. This case shows the 9th, 10th and 11th Doctor agains a fun background and completed with the Doctor Who logo.
So you iPod touch can look stunning and be protected from scratches and dings at the same time.
And yes this Doctor Who iPod Touch case leaves all the functions of you iPod  ready to use no ports or buttons are blocked so that it looks like the case is part of your Apple device.
Come have a better look at this Doctor Who 3 Doctors iPod Touch Case.