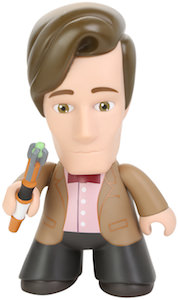 There we have the 11th Doctor but this time he is just a vinyl figure.
This Doctor Who action figure is about 6 1/2 inch tall and looks just like the 11th Doctor as played by Matt Smith.
And the Doctor of course needs his Sonic Screwdriver so this figure also has one and you can take it out of his hand and place it in the other if you like.
Vinyl figures are fun to play with or just to have on display and if they look like Doctor Who then you know you need one.
Come have a closer look at this Doctor Who 11th Doctor Vinyl Figure.