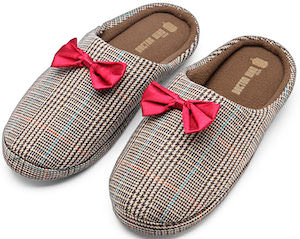 Doctor Who fans now you feet can look like the 11th Doctor.
These Doctor Who men's slippers have the look of the Doctor.
The fabric looks like the tweet jacket the Doctor wears and then there is a little red bow tie on each slipper making them cool.
These Doctor Who slippers come in men's sizes 7 -14 and will be the best pair of slippers you ever wore.
Matt Smith would love to wear a pair of the 11th Doctor slippers. And these slippers have an open back to make them easy to wear and a hard nobly bottom for when you have to check for the paper outside.
Now you feet can be fans of the Doctor to just give them these Doctor Who 11th Doctor Slippers.