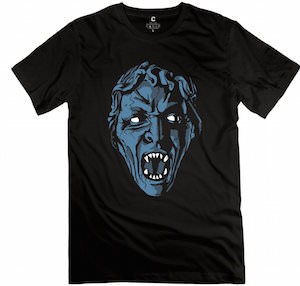 This black t-shirt does not show a friendly face but one of Doctor Who's enemies a Weeping Angel face.
And this Weeping Angel even seem to have some mean teeth that would want you to stay away.
Of course while wearing this t-shirt any one around you is not allowed to blink.
This Doctor Who t-shirt is made from 100% preshrunk cotton and comes in a wide range of sizes from XSmall – 2XL so that you can show the world how scary those Weeping Angel are.
I do like this t-shirt but am afraid to see it first thing in the morning.
But if you like scary angels then come get your own Doctor Who Weeping Angel Face T-Shirt.