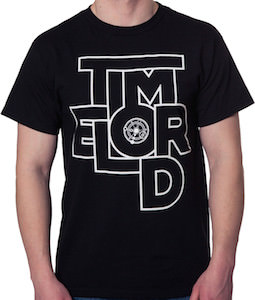 Doctor Who fans that need a new t-shirt should have a look at this black t-shirt.
On the shirt it does not say Doctor Who any where but it does say "Time Lord".
The logo on this t-shirt spells Time Lord but in a fun with with letters moving in to each other making the word. And in the middle of the O witch is also on the middle of the logo you can see writing from Gallifrey.
I can't read that but if you know what it says leave a comment below but as far as I know it could just as well say "Time Lord" as well"
This black Doctor Who t-shirt is made from 100% preshrunk cotton and is available in sizes Small – 3XL.
Show the world you new Doctor Who Time Lord Logo T-Shirt.