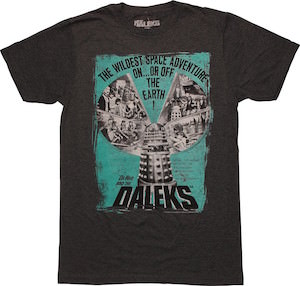 This is one Doctor Who t-shirt that is a bit different then the rest.
On this t-shirt you can see what to me looks like a classic Doctor Who poster.
With a Dalek in the centre and around it adventures. Above the picture it says "The widest space adventure on or off the earth!" and below it you find the text "Dr. Who and the Daleks".
This charcoal Doctor Who t-shirt is available in sizes Small – 2XL and for sure people will notice it and wonder.
This may not be the Doctor Who t-shirt you find easily and that makes it special so why not have a closer look at this Doctor Who The Wildest Space Adventure On Or Off Earth T-Shirt.