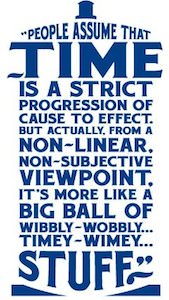 Now you can have the famous explanation of time as done by Doctor Who as a wall decal that is shaped like the Tardis.
This is a 42 x 22 inch vinyl wall decal that can be used indoor and outdoors. And this decal is not white is is see through so that you only have the words showing up on your wall.
So what does this Doctor Who wall Decal say?
People assume that time is a strict progression of cause to effect. But actually, From a Non-Linear, Non-Subjective viewpoint, It's more like a big ball of Wibbly-Wobbly… Timey-Wimey… Stuff.
And all those words once said by the 10th Doctor are shaped like the Tardis and will look just stunning on any wall.
So if you are a true Doctor Who fan with some space on a wall then don't wait come get your Doctor Who Tardis Wibbly Wobbly Timey Wimey Wall Decal.