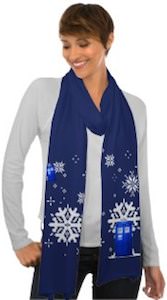 Winter is the time of year we want to wear a scarf and there is of course no better scarf then a Doctor Who scarf.
This Doctor Who scarf comes in all kind of fun colors and also in Tardis blue and on this scarf you can see some picture of the Tardis and snowflakes. It all makes the Doctor Who scarf playful and fun.
This Tardis winter scarf is 93 x 16 inch and is made from 100% preshrunk jersey cotton.
You now have the opportunity that have a winter scarf that is different then the once other wear and of course revolves all around the Doctor.
Get ready for a cold day with this Doctor Who Tardis Snowflake Scarf.