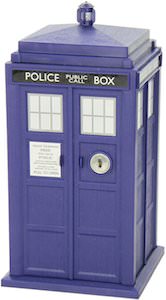 Where do you store your priced possessions? I hope they are safely stored.
But if you don't have a good storage space for those expensive things then this Tardis safe can be the best thing out there.
This Tardis safe looks just like the real Tardis from Doctor Who and if you put batteries in it it will even have lights and sounds just like the real Tardis.
On the front door you can see a lock witch can only be opened with one of the two included keys. And if you unlock it then the top of the Tardis will open and then you can put you things in it.
The Tardis safe is 9 x 4 x 4 inch and it is not confirmed yet if it is bigger on the inside.
Lets get your valuable get safely stored in this Doctor Who Tardis Safe With Lights And Sound.