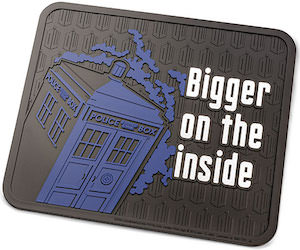 When the weather get mucky a doormat is the way to go.
And now there is a doormat made for Doctor Who fans.
This rubber doormat is black and has the Doctor Who logo in the background all over the matt and then there is a big Tardis and yes it's blue and then in white letters next to that it says "Bigger on the inside" and that means that you should put the mat outside the door.
The Tardis doormat design is elevated so that dirt stays on it while going inside.
Just imagine having this geek doormat in front of you home or room, it will look so nice.
Get dirty and wipe you feet on this Doctor Who Tardis Rubber Doormat.