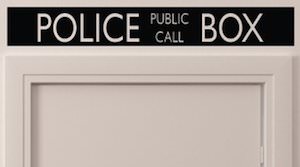 Just imagine you have a blue door in your home if you want to make that into the Tardis of Doctor Who then we found the perfect simple solution.
Just get this sticker and put it above your door.
The sticker is just like the top sign of the Tardis and says "Police Public Call Box".
This Tardis sign wall decal is about 36″ wide and 5″ high making it perfect for above almost any door.
And if you don't have a blue door then just get some paint and make one.
This sticker really makes me think want to try to build my own Tardis from a closet door and then maybe the closet becomes bigger on the inside.
Now you can make the Tardis from any door with this Doctor Who Tardis Police Box Top Sign Sticker.