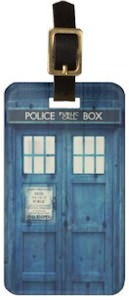 When ever you travel you really hope you don't loose your luggage.
And to make sure you luggage gets found the now have this Doctor Who luggage tag.
This luggage tag looks just like the Tardis and both sides of the tag look the same.
But you can personalize it with your information on one or both sides so that other travellers can see where to find you.
The Tardis luggage tag is made from durable acrylic and is waterproof and UV protected so that it will last on your trips.
This Doctor Who Tardis luggage tag is great for suitcases, backpack, handbags or maybe even the dog.
Start planning your next trip and start by getting your Doctor Who Tardis Luggage Tag.