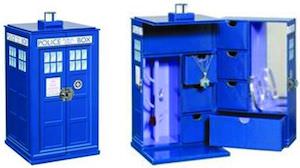 Now all your Doctor Who jewelry can live in a neat space that is right for it.
This is a Tardis jewelry box and it almost seems like it is bigger on the inside.
The Doctor Who jewelry box has 7 drawers for jewelry, 3 hooks for rings and even a little mirror.
Not only is this a great way to store your rings, bracelets and necklaces it also is so fitting for a Doctor Who fan as it looks so much like the Tardis.
If you jewelry is just lying around somewhere in your room then a jewelry box can really help and if it looks like the Tardis then it has to be a done deal.
Come and check out all the details of this Doctor Who Tardis Jewelry Box.