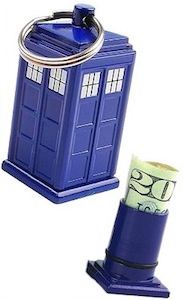 Doctor Who fans can now leave their wallets at home as this Tardis key chain will store you money for you.
It's a fun key chain shaped like the famous Tardis and inside is a secret compartment that has room to store paper money.
Of course a wallet will still be handy but now you can have an emergency fund ready to use right there on your key chain.
I am sure the Doctor will think that this is pretty clever.
Now you never have to worry about if you took you wallet or not as there will be money on you key chain.
Come have a closer look at this Doctor Who Tardis Emergency Fund Key Chain.